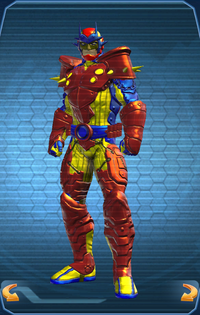 Zonewalker is an Armor Style Set for heroes based on the black armor worn by General Zod during an encounter against Superman within the Phantom Zone.
Its available from Doctor Desanto in the Watchtower's Tech Wing. The vendor requires Marks of Victory and the tier gear additionally requires cooperative renown with Wayne Enterprises. 
The set is also available as attuned gear for all four roles with item levels 10-162 (uncommon), 10-163 (rare) and 10-164 (epic) from instances of the Starro the Conqueror event.
Color-Schemes
Edit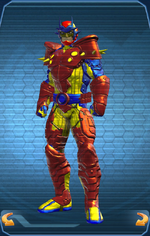 The Zonewalker's overall color-scheme consists of three colors that can be chosen by the Player in the Style Window. Specific sections of the style's pieces can also be allocated a more specific colour by the Player.
Emblems do not appear on this style.

The fact that this suit is based off of Krypton technology but is sold by a Wayne Enterprises vendor possibly makes reference to how Thomas Wayne used kryptonian technology, found during a trip through Kansas where he was abducted and met Jor-El, to revitalize Wayne Enterprises' tech division.