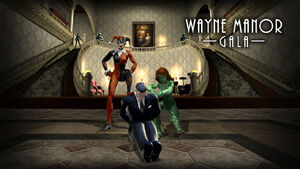 Wayne Manor Gala is a Tier 8 2 player operation in Episode 26 released in July 2016.

Access to the Wayne Manor Gala Duo requires a Combat Rating of 162. The Duo rewards 2 Marks of Victory and has a suggested Combat Rating of 169.

Wayne Manor Gala is part of Episode 26 sold together with the Kandor Central Tower Raid. Access to the content is available to members with an active subscription. Non-members may purchase the Episode in the marketplace for $4.
Story
[
]
Bruce Wayne and his philanthropic guests are raising funds for the victims of the Brainiac Invasion at Wayne Manor tonight. Rumor has it something sinister is going to go down at the Gala. Many heroes are expected to be in attendance which means mayhem will find this opportunity hard to pass up.
Characters
[
]
Locations
[
]
Content
[
]
Equipment
[
]
Collectibles
[
]
Briefings and Investigations
[
]
Collections
[
]
Feats
[
]
Gallery
[
]