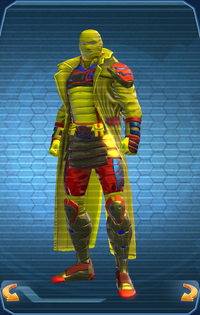 The Vengeful Surgeon is an Iconic Battle Suit Style set for any role.
Consisting of eight pieces, the set is themed after the villain Hush as a specialized Tier 4 PvP (Player versus Player) set only available from the Requisitions-T234-VA in the Meta Wing of the Hall of Doom.
To obtain this set, players must be at Level 30, have a PvP Combat Rating of 99 or above.
Vengeful Surgeon (Healer)

Pieces
Price
Stats (Total)
Vengeful Surgeon (Tank)

Pieces
Price
Stats (Total)
Vengeful Surgeon (Controller)

Pieces
Price
Stats (Total)
Vengeful Surgeon (Damage)

Pieces
Price
Stats (Total)
Collecting the full style set unlocks the feat Hush Little Baby (50 points).

Color-Schemes
Edit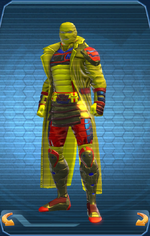 The Vengeful Surgeon's overall color-scheme consists of three colors that can be chosen by the Player in the Style Window. Specific sections of the style's pieces can also be allocated a more specific colour by the Player.
Emblems do not appear while wearing this style.

The Vengeful Surgeon was released alongside the Gotham Knight with Game Update 41 as part of Season 3 of the PvP seasons.
Along with the Gotham Knight armor set for heroes the first gear to feature the new prismatic sockets which allow for any colored equipment mod.
As of July 22, 2015 (Hotfix), the Vengeful Surgeon style is among other villain styles to be able to be acquired by heroes as a cross-faction style. It can be obtained through Promethium Lockboxes, and in this case is Account bound and does not count toward feats for heroes.
Community content is available under
CC-BY-SA
unless otherwise noted.