Roblox: DeepWoken - The Loop
Play Sound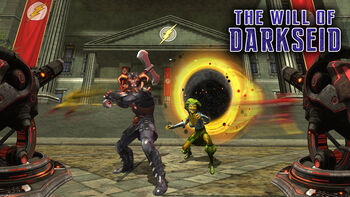 The Will of Darkseid is a Tier 4 2 player operation in Episode 23 released in April 2016.
Access to The Will of Darkseid Duo requires a Combat Rating of 150. The operation rewards 2 Source Marks.

The Will of Darkseid is part of Episode 23 together with Brainiac's Bottle Ship.

"Darkseid's up to something -- his forces have renewed their attack on New Genesis. Go lend a hand and see if you can find out what they are up to this time." — Superman
Story
[
]
The Will of Darkseid is revealed.
While off-world seeking information about Apokolips, Superman has discovered that the forces of Darkseid are gathering an invasion force on the surface of New Genesis. Parademons are lining up in ranks to invade!
Superman asks that you help the locals defend their homes while the New Gods of New Genesis are busy elsewhere preparing a counter-attack. Lex Luthor enters the scene for the villains, curious if working with Darkseid is even worth the investment. He will quickly form an opinion.
Characters
[
]
Locations
[
]
Content
[
]
Equipment
[
]
Map
[
]
Note that only the central chamber can be entered, and once you do, the entrance is also sealed.
Walkthrough
[
]
Defeat parademons and their lieutenant on New Genesis. You hear Darkseid declaring his intention to destroy Earth, and go to Central City to stop the invasion.
You must destroy 5 Apokoliptian cannons, each guarded by 4 parademons that need to be defeated before the cannon is targetable. There are also extra patrols of parademons and The Flash is fighting endless waves of them northeast of the area, but it is not necessary to fight those.
Defeat Mantis and Kalibak. Superman (for heroes) comment that isn't much of an invasion, but spots Steppenwolf coming out of the Flash Museum. Mad Harriet carries a crate from the museum and escapes through a boom tube, and Darkseid says he has what he needs. Superman notes that she has stolen an ancient artiface from the Third World.
Defeat Steppenwolf. He can be quite difficult as he summons a New God Axe that spins around dealing heavy continuous damage around it and slowly follows you. Steppenwolf has a Lethal attack, Apokoliptian Kinetic Energy: he charges for a few seconds before releasing a massive burst of energy, dealing incredible damage in a massive area. He also has a pull that grounds you.
After defeating Steppenwolf, he also flees in a boom tube. Superman says he doesn't look how pleased the Apokoliptians are, which is always bad news; he says they must take the fight to Darkseid - leading up to the Darkseid's War Factory raid.
Collectibles
[
]
Briefings and Investigations
[
]
Collections
[
]
Feats
[
]
Main article: Episode 23 Feats
Trivia
[
]
Gallery
[
]