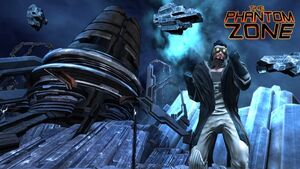 "Thanks for checking out the alert signal coming from the Fortress. I'd head there myself, but I'm trying to get to the bottom of Darkseid's plans. Anyway, we can discuss that later -- the readings are coming from the Phantom Zone Projector - head over there and I will check back in." — Superman

"Welcome back to the Fortress of Solitude! With Superman gone, you should be able to get acquainted with some intriguing Kryptonian tech. But I still get first rights on whatever you might find. My sensors are showing some anomalous readings emanating near the Phantom Zone Projector....but no risk, no reward." — Lex Luthor

The Phantom Zone is a Tier 7 4-player Operation in Episode 22 released in March 2016.

Access to the The Phantom Zone requires a Combat Rating of 146. The Operation rewards 5 Marks of Victory.

The Phantom Zone is part of Episode 22 sold together with The Science Spire Operation. Access to the content is available to members with an active subscription. Non-members may purchase the Episode in the marketplace for $4.
The Fortress of Solitude's defense systems are malfunctioning just as Superman is busy investigating an incredible off world threat. The source appears to be the Phantom Zone Projector! Superman needs trusted heroes to help check out the disturbance! Meanwhile Lex Luthor, having inserted listening devices in the Fortress during the Fortress raids long ago, is calling on villains to come play while Superman's away.
Characters
Edit
The enemy combat rating is 161.
Locations
Edit
Equipment
Edit
Collectibles
Edit
Briefings and Investigations
Edit
Collections
Edit
Blue, Green, Red
Blue, Green, Yellow
Blue, Purple, Red
Blue, Red, Yellow
Blue, Purple, Yellow

Blue, Green, Purple
Green, Red, Yellow
Green, Purple, Red
Green, Purple, Yellow
Purple, Red, Yellow
Defeat Captain Zul then Ursa on the first attempt
Defeat Captain Zul then Non on the first attempt
Defeat Ursa then Captain Zul on the first attempt
Defeat Non then Captain Zul on the first attempt
Defeat Ursa or Non on the first attempt after using all 4 consoles to blow out the Artificial Light Generator before defeating Captain Zul
Defeat Ursa or Non on the first attempt before defeating Captain Zul without using any of the consoles that diminish and disable the Artificial Light Generator