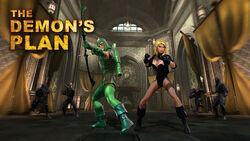 The Demon's Plan is a Tier 3 Alert in Episode 19 released on December 2, 2015.
Access to the Demon's Plan Alert requires a Combat Rating of 100. The Alert rewards 5 Source Marks.

The Demon's Plan is the conclusion to the League of Assassins storyline where everything is on the line. The League's plots are coming to fruition, and both Green Arrow and Captain Cold have been captured. Heroes must join forces with Black Canary to infiltrate Ra's al Ghul's infamous mountain fortress of Nanda Parbat to rescue Green Arrow, while villains assist Heat Wave in rescuing Captain Cold.

The Demon's Plan is part of Episode 19 together with Deep Desires.

Story
[
]
The League of Assassins has been busy lately, and now we discover that Ra's al Ghul's madness is greater than it's ever been. But rather than an all-out assault on any one of the world's great cities, he has captured Star City's hero, Green Arrow and Central City's nefarious rogue, Captain Cold. Fight alongside Black Canary or Heat Wave against Ra's forces in the infamous mountain fortress of Nanda Parbat. Will Ra's succeed in his attempt to recruit these powerful leaders to his cause? Find out in the final chapter of the League of Assassin's story arc.
Elite Version
[
]
Inhabitants
[
]
The enemy combat rating is 149.
Map
[
]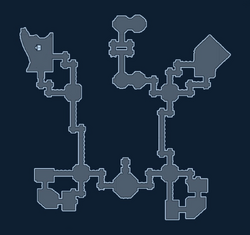 Walkthrough
[
]
This alert drops level 122 common gear, and the elite alert has a chance of dropping level 133 Herald of the Black elite gear; you also get the option for generic attuned gear with the level range of 134-160.
Collectibles
[
]
Briefings and Investigations

[

]
Collections

[

]
Feats
[
]
Trivia
[
]
Gallery
[
]