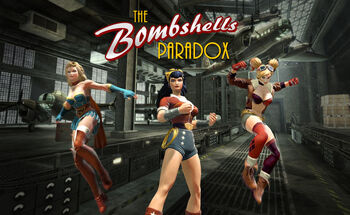 The Bombshell Paradox is a Tier 7 8 player Operation in Episode 15 released on August 5th for members and on August 12th for non-members.
Access requires a Combat Rating of 113 and has a suggested Combat Rating of 129. The Operation rewards 10 Marks of Victory.
Players travel through a rift in time and space to the world of the DC Bombshells to battle the "Bombshell" Talia al Ghul. In her attempts to alter their timeline and change the outcome of World War II, the Lady al Ghul has created a tear in reality that must be fixed! Players must stop her and set the universe back on its correct path.
The Bombshell Paradox is part of Episode 15 sold together with Corrupted Zamaron. Access to the content is available to members with an active subscription. Non-members may purchase the Episode in the Marketplace for $4.
"The barriers between realities are weakening and certain aspects of reality are becoming affected. I need you to find the anomaly and repair the fabric of time and space." — Oracle
The enemy combat rating is 131.
Community content is available under
CC-BY-SA
unless otherwise noted.