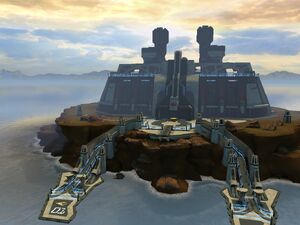 After Gorilla Grodd was defeated by the Flash (Barry Allen) and the New Heroes, he was brought to the penitentiary for incarceration, however, after being induced into an artificial coma, Grodd's psychic powers ran rampant throughout the facility; freeing common and metahuman prisoners alike.
While Steelworks has arrived to support the penitentiary's forces to subdue the resulting riot, New Heroes must also lend their aid in disrupting the various criminal groups vying for control over the situation while others still must enter the penitentiary itself to stop Grodd's powers from wreaking more havoc.
Involvement
Edit
New Heroes must enter the Solitary Wing to subdue any escaping prisoners.
Inhabitants
Edit
The instance's map is actually the map of the Stryker's Island Penitentiary Alert. In addition, the actual instance only occurs within a small portion of the map.
Community content is available under
CC-BY-SA
unless otherwise noted.