New Pokemon Games - The Loop
Play Sound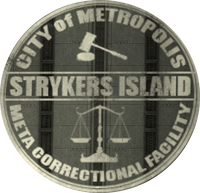 Located on the island of the same name, Stryker's Island Penitentiary is the largest prison facility in Metropolis.
Built as a maximum-security facility in response to the growing level of criminal threats after Superman appeared in Metropolis, the penitentiary houses some of the worst human offenders that Metropolis has to offer, it is also designed to contain various super-powered individuals as well.
Daily tours of the facility are provided to help supplement the rising costs of staff, maintenance and upkeep.
Involvement
[
]
Toyman intends to turn Styker's into his own dollhouse, using his toys and new prototypes in an attempt to break into and take possession of the prison facility. New heroes and villains are sent to quell the uprising and thin the ranks of Toyman's army.

After Gorilla Grodd was defeated by the Flash (Barry Allen) and the New Heroes, he was brought to the penitentiary for incarceration, however, after being induced into an artificial coma, Grodd's psychic powers ran rampant throughout the facility; freeing common and metahuman prisoners alike.
While Steelworks has arrived to support the penitentiary's forces to subdue the resulting riot, New Heroes must also lend their aid in disrupting the various criminal groups vying for control over the situation while others still must enter the penitentiary itself to stop Grodd's powers from wreaking more havoc.
Members
[
]
Iconics/Bosses

Mobs

Hemlock Leader

Prison Guard

Vendors/Taskmasters
Equipment
[
]
Map
[
]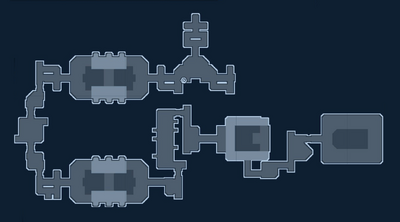 Gallery
[
]
Trivia
[
]
The concept of Stryker's Island is based on Riker's Island in New York City.
While usually accessed via the Duty Menu, players can also enter the Stryker's Island Penitentiary Alert via an access teleporter at the front doors of the prison.
See also
[
]
External Links
[
]