Arcane: League of Legends - The Loop
Play Sound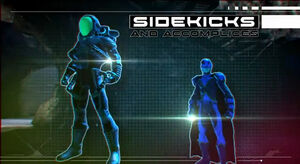 Sidekicks and Accomplices are NPCs that can be summoned by the Player Character via Dispenser Items provided by their Lair's Mainframe to support them in combat. Lair System access is necessary to use these Trinkets.
Players can choose the weapon their Sidekick/Accomplice will use. Sidekicks and Accomplices act in a similar manner to Pets and will stay with the Player for 50 seconds before being subjected to a 3-and-a-half minute cool-down period, after which they can be summoned again.
Appearance and Upgrades
[
]

Sidekicks (Heroes) and Accomplices (Villains) can be upgraded via the Mainframe, with each upgrade allowing the NPC to be more effective in supporting the player in combat.
The gender of the Sidekick/Accomplice will match the gender of the Player Character (e.g. Female Player Character = Female Sidekick/Accomplice).
| | | |
| --- | --- | --- |
| Level | Title | Actions |
| Level 1 | Sidekick | Attacks Enemies |
| Level 2 | Improved Sidekick | Attacks Enemies, Heals Caster |
| Level 3 | Seasoned Sidekick  | Taunts, Attacks Enemies, Heals Caster, Replenishes Power, Shields |
Notes
[
]
Prior to Game Update 47 there were 5 possible levels for your Sidekick/Accomplice. Levels 1 and 2 are unchanged, but previously level 3 (originally called 'talented sidekick') only attacked enemies, taunted, and healed the caster. Level 4 (originally called 'elite sidekick') added the ability to replenish power to the caster and level 5 was the same as level 3, today.
Gallery
[
]
Trivia
[
]