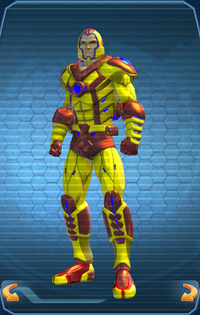 Sector 3601 is an Iconic Battle Suit style set available only for male player characters.
Consisting of eight pieces, the set is an advanced PvE (Player versus Environment) gear set inspired by the Manhunters.
This set has Item Level 97 and is obtained from the Love and War operation. A minimum PvE Combat Rating of 107 or above and the War of the Light Part II episode is pre-requisite of obtaining this gear.
Sector 3601 (Damage)

Pieces
Obtainment
Sector 3601 (Controller)

Pieces
Obtainment
Sector 3601 (Healer)

Pieces
Obtainment
Sector 3601 (Tank)

Pieces
Obtainment
Color-Schemes
Edit
The Sector 3601's overall color-scheme consists of three colors that can be chosen by the Player in the Style Window. Specific sections of the style's pieces can also be allocated a more specific colour by the Player.
Emblems do not appear on this style.

Collecting the full style set unlocks the feat No Man Escapes (25 points)