New Pokemon Games - The Loop
Play Sound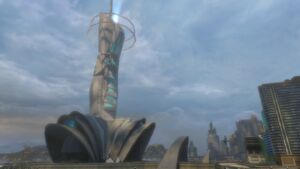 The Science Spire is a monumental spire/tower, located in the Tomorrow District of Metropolis.
Home to many of the best interstellar observation equipment in the world, the spire is a frequent location for meeting and greeting extraterrestrial lifeforms.
Designed through the architectural vision of Miles Van Vliet and the feng shui master "Six True Words", the creation of the tower was funded by Lex Luthor under the guise of making a monument to represent humanity's unshakable spirit. In actuality, Luthor and Vliet built the tower to channel the Chi energy on Earth into a laser to destroy Superman and any other foreign beings that "undermine humanity".
However, Luthor and Vliet's plans were thwarted by the Question (Victor Sage), who buried the bodies of their thugs and Vliet himself, in the foundations of the building. The ghosts of which served to obstruct the flow of chi to the spire and rendered the tower's use as a laser ineffectual.
Involvement
[
]
The Science Spire challenge takes place inside the Science Spire.
The interiors of the Science Spire are the first stage of the Brainiac's Bottle Ship operation.
The interiors of the Science Spire are one of the random locations for the Starro: Spreading Spores duo during the Starro the Conqueror event. Heroes and villains encounter Controlled Lex Luthor.
Map
[
]
Locations
[
]
Inhabitants
[
]
Gallery
[
]
Trivia
[
]
The Science Spire first appeared in Question #2 (February, 2005).
The Science Spire is currently the tallest building in DC Universe Online.