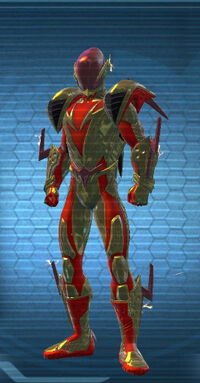 Reverse is a costume style set for villains only available in the Lightning Strikes episode.
Accessable only with the Lightning Strikes episode and having a Combat Rating of at least 53, you gain access to Central City through the Hangar of the Hall of Doom in the Tech Wing where next to the teleporter over at Central City the vendor Short Order is located, offering the set through various crates around him as 'Souvenirs'. Interacting with them opens up a window similar to a real vendor where you can trade your Mark of Triumph for the set pieces and various non-set role specific rings/necklaces/weapons, depending on which crate you interact with.
All items on offer have a Combat Rating of 62.
Purchasing the whole Style Set requires at least 3578 Cash and 4200 Mark of Triumph
Each crate displays with the Role icon which type of gear they offer.
The set is also available as style items from Vending Unit 00 near The Pit.
High Voltage (Damage)

Pieces
Obtainment
High Voltage (Controller)

Pieces
Obtainment
High Voltage (Healer)

Pieces
Obtainment
Reverse (Style)

Pieces
Obtainment
Color-Schemes
Edit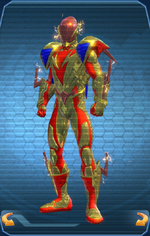 The Reverse' overall color-scheme consists of three colors that can be chosen by the Player in the Style Window. Specific sections of the style's pieces can also be allocated a more specific colour by the Player.
Emblems can appear on the suit since game update 24.

The hand, shoulders and feet emit electrical current sparks when worn.
Community content is available under
CC-BY-SA
unless otherwise noted.