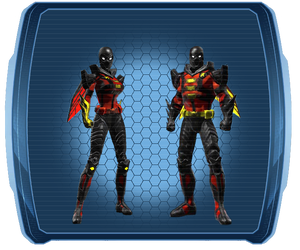 The Raptor Infiltrator is an Iconic Battle Suit Style set for Heroes. Resulting from years of in-field study and research, this suit is the pinnacle of Batman's Robin-suit designs; built with the intention of protecting the wearer from harm while on duty in Gotham.
Raptor Infiltrator was previously an armor set, but is now only a style themed after Robin. It is available from the vendor Requisitions-H-STYL in the Hall of Heroes in the JLA Watchtower for 800 Marks of Valor and $250 per piece.
Previously, the set consisted of eight pieces, and was a specialized Tier 1 PvP (Player versus Player) set only available from Robin in the Tech Wing of the JLA Watchtower. The full set required 6086 cash and 315 Marks of Valor.
Before game update 25 the full set required 2664 cash and 3400 Influence.
The information below is historical only. Raptor Infiltrator is no longer related to actual armor pieces and is now a style only.
Color-Schemes
Edit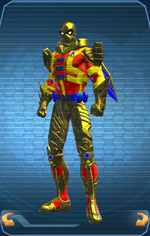 The Raptor Infiltrator's overall color-scheme consists of three colors that can be chosen by the Player in the Style Window. Specific sections of the style's pieces can also be allocated a more specific colour by the Player.
Emblems do not appear while wearing this style.

Rockin' Robin: Collect all styles in the Raptor Infiltrator set (50 points)
Community content is available under
CC-BY-SA
unless otherwise noted.