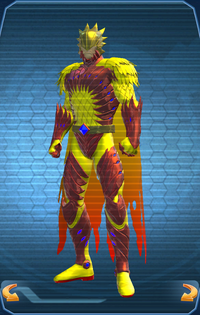 The Prideful is a costume style set and an Iconic Battle Suit for heroes only available with the Sons of Trigon episode.
The Prideful Iconic Battle Suit is sold by Sentinel Bonet located in the Gotham Wastelands. The cost of the suit is 8491 Cash, 400 Marks of Victory. The armor pieces have an Item Level of 86. Players need a Combat Rating of 84 to purchase this Armor.
Consisting of eight pieces, the set is themed after the hero Raven.
The set is also available as style items from Vending Unit 00 in the Aquacultural Area of the Watchtower.
Prideful (Damage)

Pieces
Obtainment
Prideful (Damage)

Pieces
Obtainment
Prideful (Controller)

Pieces
Obtainment
Prideful (Healer)

Pieces
Obtainment
Prideful (Tank)

Pieces
Obtainment
Prideful (Styles)

Pieces
Obtainment
Color-Schemes
Edit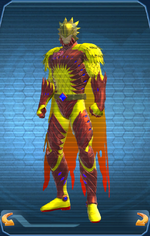 The Prideful's overall color-scheme consists of three colors that can be chosen by the Player in the Style Window. Specific sections of the style's pieces can also be allocated a more specific colour by the Player.
Emblems do appear on this style.

Pride and Joy: Collect all styles in the Prideful set. (50 Points)
The female's Prideful costume style closely resembles Raven's new 52 costume.
Until game update 47 the armor set was available two damage role sets, one focusing on might and the other on precision. These sets are still available, but do not differ in their stats anymore.
Community content is available under
CC-BY-SA
unless otherwise noted.