Arcane: League of Legends - The Loop
Play Sound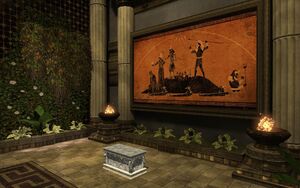 The Patchwork Themyscira is the open world zone for the episode Wonderverse. It is a multiversal version of Themyscira.
Access to it is possible through teleporters in the Watchtower and the Hall of Doom.
History
[
]
A lot has happened ever since the rupturing of the Source Wall. The multiverse started collapsing, Universes collided with each other, and All gods, Greek, Old and even New, has thrown the merged Themyscira into complete war and chaos trying to recover and steal source wall fragments to obtain nigh-unlimited power.
The Wonder Woman of our universe has joined forces with Wonder Women from four different universes to form the Council of Wonder Women. And they need all assistance they can get in going up against the New, Old, and Greek gods, trying to find the fragments to repair the source wall, and saving the multiverse as a whole.
Involvement
[
]
Patchwork Themyscira is the open world zone in the Wonderverse episode and event.
Map
[
]
Inhabitants
[
]
Collectibles
[
]
Briefings and Investigations
[
]
Collections
[
]
Feats
[
]
Gallery
[
]
Trivia
[
]