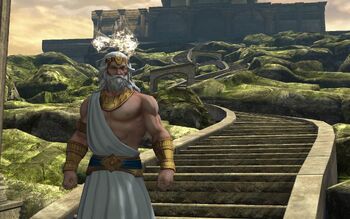 Olympus is a Tier 8 Raid in Amazon Fury Part III released in November 2016. It also features an elite version.
Access to the Olympus Raid requires a Combat Rating of 166 and has a recommended Combat Rating of 173. The Raid rewards 10 Ancient Coins and 10 Marks of Victory.
Access to Amazon Fury Part III is available to members with an active subscription. Non-members may purchase the Episode in the marketplace for $10.
Hippolyta's soul that Circe and Ares siphoned away has been taken to Olympus, and Wonder Woman is trying to get it back! Meanwhile, Circe and Ares are sticking to their plan of deposing Zeus from his throne.
Heroes aid Wonder Woman in freeing her mother's soul while Villains follow the request of Circe and Ares to help depose Zeus from the throne. Whatever your goals, you must now face the gods in Olympus.
Characters
Edit
The enemy combat rating is 194.
Locations
Edit
Walkthrough
Edit
Equipment
Edit
Collectibles
Edit
Briefings and Investigations
Edit
Collections
Edit