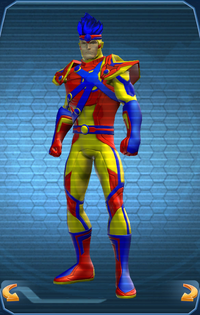 Nuclear is an Iconic Battle Suit for heroes and villains which is also available in an Elite version.
Consisting of eight pieces, the set is an advanced PvE (Player versus Environment) gear set inspired by the vestments of Firestorm.
This set has Item Levels 150 and 153 and is obtained as loot drop from the tier 8 raid Darkseid's War Factory (elite) as well as the A Rip in Time (elite) alert. A minimum PvE Combat Rating of 154 or above and episodes 24 and 25 are pre-requisite of obtaining this gear.
Sets
[
]
Pieces
[
]
Availability Scheme
[
]
Color-Schemes
[
]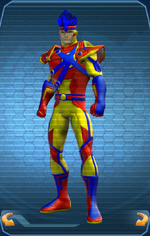 The Nuclear's overall color-scheme consists of three colors that can be chosen by the Player in the Style Window. Specific sections of the style's pieces can also be allocated a more specific colour by the Player.
Emblems do not appear on this style.

Feats
[
]
Hot Look: Collect all styles in the Nuclear set (25 Points)
Trivia
[
]
Regular and elite gear of the same style would usually differ minimally by the elite set having more glow, sparkle or otherwise enhanced features.
Gallery
[
]
See also
[
]