Metalhead is an armor style set for heroes and villains.
It is available at the main safehouses in Gotham City, the Diamond District Police Station or the Burnley Nightclub respectively.
It is also available with item level 76 from the Hand of Fate episode content.
Furthermore it is available as attuned gear with item levels 225-239 (green) and 225-241 (blue) from Metal Part I content. The event versions are level 10-228 (green), 10-229 (blue), and 10-230 (purple).
Color-Schemes
Edit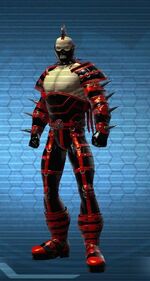 The Metallhead's overall color-scheme consists of three colors that can be chosen by the Player in the Style Window. Specific sections of the style's pieces can also be allocated a more specific colour by the Player.
Emblems do not appear on this style.

Community content is available under
CC-BY-SA
unless otherwise noted.