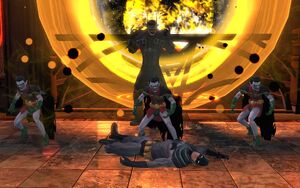 Metal Pt. II: Batscape is a tier 5 2 player operation in the Metal Part II episode.
Combat Rating: 210
For the Event Version – look for Metal Pt. II: Batscape (Event) in the On Duty Menu under the Events Tab.
Minimum Level: 15.
Story
[
]
Our planet's organized resistance to the Dark Knights has holed up in the Oblivion Bar to plan the next steps trying to save reality.
Characters
[
]
The enemy combat rating is 293.
Locations
[
]
Map
[
]
Walkthrough
[
]
Talk to Hawkgirl to start a cutscene in which the heroes discuss the situation, culminating in Hawkgirl saying she can't see how this could be any worse. Right on cue, Batman Who Laughs boom tubes in with Dark Robins and dumps a comatose Batman in front of him before leaving. Defeat the Dark Robins while the heroes figure out Batman is rigged to a bomb and you must go into his mind to save him.
You arrive at a mental version of the Batcave. Inside are 5 spots each connected to one of the Dark Knights; 2 random ones would be marked by a swarm of black bats, and would cause the corresponding Dark Knight to appear. You must defeat the first before the second can appear.
Afterwards, go up to the Batcomputer platform to defend Batman from the Dark Knights. The next location is a theatre where he is attacked by illusions of the Batfamily (2 consoles before the theatre allow you to skip the cutscene, both players must activate one each). If Batman is KO'ed at any point, you are given a short time to rally him, and if he is not rallied, Batman will instantly KO you.
Rewards
[
]
Collectibles
[
]
Briefings and Investigations
[
]
Collections
[
]
Feats
[
]
Apparition Abolition: During multiple runs of the Metal Pt. II: Batscape (Normal or Event) Duo, win the final boss fight after defeating each of these enemies: (10 Points)
Additional lore
[
]
At the beginning of the instance, while you are instructed to talk to Hawkgirl, you can talk to three more characters beforehand (you won't be able to do so after talking to Hawkgirl).
Martian Manhunter mentions meeting alternate Batmen before, but the Dark Knights are something else.
Aquaman wonders if the Bar is safe, and that he would never underestimate any Batman.
Nightwing briefly recounts the Dark Knights succeeding in their plan in Metal Part I and that he misses only having to clean off clown makeup.
Trivia
[
]
Metal Pt. II: Batscape continues where Metal Part I left off; Batman was captured by the Dark Knights and used as bait to capture Superman, and both were held on the Dark Multiverse spire as seen at the end of Metal Pt. I: Monsters of Metal.
Gallery
[
]