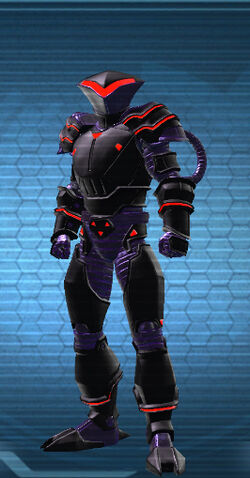 Manta is a costume style set and an Iconic Battle Suit available only for villains.
Consisting of eight pieces, the set is  a specialized Tier 5 PvE (Player versus Environment) inspired by the villain Black Manta and is on sale from Non in the Meta Wing of the Hall of Doom.
To obtain this set, is required be at level 30, have a PvE Combat Rating 84 or above and have the Origin Crisis episode.
The set is also available as style items from Vending Unit 00 near The Pit.
Manta (Damage - Precision)

Pieces
Prices
Stats (Total)
Manta (Damage - Might)

Pieces
Prices
Stats (Total)
Manta (Controller)

Pieces
Prices
Stats (Total)
Manta (Healer)

Pieces
Prices
Stats (Total)
Manta (Tank)

Pieces
Prices
Stats (Total)
Manta (Style)

Pieces
Obtainment
Color-Schemes
Edit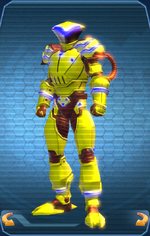 The Manta's overall color-scheme consists of three colors that can be chosen by the Player in the Style Window. Specific sections of the style's pieces can also be allocated a more specific colour by the Player.
Emblems do not appear while wearing this style.

Black Manta's battle-suit is adapted to an oceanic environment, giving him complete resistance to the cold and pressures of deep sea conditions and grants him the ability to breathe underwater (whether this is due to a hidden oxygen supply or its ability to extract oxygen from the water like the gills of a fish is unknown), a jet pack which functions in or out of water, a telepathic scrambler (used to temporarily strip Aquaman of his aquatic telepathy), and a varying array of weapons, including twin blades, a hand-held trident, energy beams and a harpoon gun that he can fire from his right wrist gauntlet, miniaturized torpedoes, and optic blasts emitted from the eye lenses in his helmet. It is not known how his suit is powered or how long it can function before needing recharging (or if it even needs to be).
Community content is available under
CC-BY-SA
unless otherwise noted.