This article is about the equipment. For the opponent fought in Fortress of Solitude: Sunstone Matrix, see Kryptonian Medic.
The Kryptonian Medico is a costume style set and Iconic Battle Suit for healers. Created and infused with Sunstone Crystal technology, the set for heroes possesses the family crest of El while the set for villains possesses the family crest of Zod.
Consisting of eight pieces, the specialized Tier 3 PvE (Player versus Environment) set is available from Supergirl and Non in the Meta Wings of the JLA Watchtower and the Hall of Doom respectively.
The requirement to be able to purchase the set is being Level 30 and having a Combat Rating of 53 or above.
The price for the whole set is : 3891 Cash, 400 Marks of Triumph.
All pieces on sale have a Item Level of 70.
The set is also available as style items from Vending Unit 00 in the Aquacultural Area of the Watchtower and near The Pit in the Hall of Doom.
Kryptonian Medico

Pieces - Heroes
Prices
Pieces - Villains
Prices
Stats (Total)
Kryptonian Medico (Style)

Pieces
Obtainment
Color-Schemes
Edit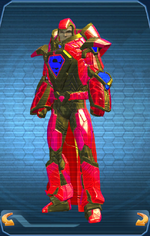 The Kryptonian Medico's overall color-scheme consists of three colors that can be chosen by the Player in the Style Window. Specific sections of the style's pieces can also be allocated a more specific colour by the Player.
Emblems do not appear while wearing this style.

Surgeon General: Collect all styles in the Kryptonian Medico set. (50 Points)