Arcane: League of Legends - The Loop
Play Sound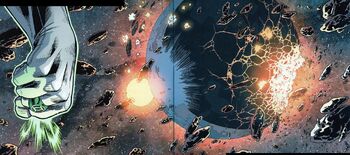 Korugar is a planet located in Space Sector 1417, famed for being the home planet of ex-Green Lantern Thaal Sinestro.
Once a peaceful planet, after Sinestro's rule the planet fell to the control of a corrupt government and the populace now regards the Green Lantern Corps insignia as a symbol of corrupt oppression.
In-Game History
[
]
Korugar was a peaceful planet until the Green Lantern, Sinestro, wanted to ensure that Korugar would be a place of order and set himself up as the planet's dictator, using his power as a Green Lantern to rule the planet with an iron fist. When the Guardians of the Universe learned of Sinestro's dictatorship, they stripped him of his ring and exiled him to the Anti-Matter Universe of Qward.
Katma Tui, the leader of the Korugaran resistance movement against Sinestro's remaining government, was recruited as Sinestro's Green Lantern replacement. However, due to Sinestro's repressive reign, the Korugarans had come to view the Green Lantern symbol as a sign of tyranny, and rejected Katma, calling her "The Lost". Following her exile, Sinestro's government returned to power despite the absence of its leader.
By the time Doctor Soranik Natu, another Korugaran, was recruited, she was also reviled by her associates despite herself resisting the ring and she ultimately lost her job as a doctor and forced onto the streets. However, after she begins using her ring to provide medical care to Korugar's lower class, she is unwillingly used as a symbol against the corrupt government ruling the planet. However, unwilling to become involved in politics, Soranik left the planet to attend to her Lantern duties.
Members
[
]
Trivia
[
]
Korugar first appeared in Green Lantern #7 (July/August 1961).
The capital and largest city of Korugar is Korugar City.
The natives of Korugar are a humanoid race with bright red skin and elfin ears.
Gallery
[
]
External links
[
]