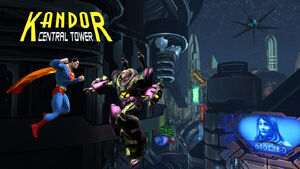 Kandor Central Tower is a Tier 8 Raid in Episode 26 released in July 2016.

Access to the Kandor Central Tower Raid requires a Combat Rating of 162. The Raid rewards 10 Marks of Victory and has a suggested Combat Rating of 169.

Kandor Central Tower is part of Episode 26 sold together with the Wayne Manor Gala Duo. Access to the content is available to members with an active subscription. Non-members may purchase the Episode in the marketplace for $4.
Using stolen technology, General Zod has restored Kandor to its normal size! Still trapped within Brainiac's bottle, Kandor now resides in the Arctic near the Fortress of Solitude. While its unknown whether Kandor on its own is a threat to Humanity, there is no doubt that Zod intends to raise an army of Kryptonians and rule the planet. Join Superman, Superboy, and Supergirl in Kandor to convince everyone that Humans and Kryptonians can share the planet and live in peace.
Characters
Edit
The enemy combat rating is 175.
Locations
Edit
Walkthrough
Edit
Equipment
Edit
Collectibles
Edit
Briefings and Investigations
Edit
Collections
Edit