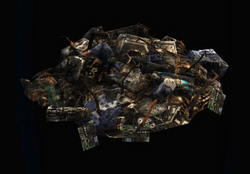 Junk Items are loot items that do not bring any benefit to the player and only serve as a way to earn cash by selling them to vendors.
List of Junk Items
[
]
Junk items are generally themed items relating to the location and drop source.
Accessory Fuse

Advanced Electronics

Amaranthine Scale

Alien Particulates

Ancient Weapon

Apokoliptian Weapon Parts

Atlas

Auburn Autumn Leaf

Bone Remnants

Bone Shards

Brainiac Deployment Data

Broken Ancient Pottery

Broken Blade

Broken Clover Glasses

Broken Nightstick

Broken Parademon Covering

Broken Repulsor

Broken Teeth Fragments

Broken Underwater Communication Device

Broken Wand

Brown Bat Wing

Burnt Out Illuminating Crystal

Burnt Out Lightstone

Burnt Out Luminescent Crystal

Busted Repulsor

Busted Taser

Candy-less V-Day Card

Caustic Ash

Chipped Catarang

Cold-Damaged Circuitry

Collapsed Shade Essence

Congealed Energy

Corroding Ash

Corrupted Sin Energy

Cracked Bone

Cracked Parademon Radio

Cracked Urn

Crystal Bits

Cubic Zirconium

Curious Debris

Decapitated Pengbot

Defective Taser

Demon's Barb

Demon's Fang

Dented Dregg Helm

Depleted Device

Device Fuse

Discarded Parademon Mask

Dismantled Brainiac Weaponry

Dismantled Stun Weapon

Dregg Remains

Dull Crystal

Empty Bottle

Empty Mist Capsules

Empty Notebook

Empty Phylactery

Empty Reagent Pouch

Energy Essence

Exhaust Luminescent Crystal

Exotic Debris

Flask of Tears

Flawless Cubic Zirconia

Fractured Nightstick

Frozen Fuel

Gotham Knights Fan Foam Finger

Half-Eaten Chocolate Coin

Inert Crystal

Inert Sun Crystal

Interstellar Antiquity

Interstellar Circuitry

Interstellar Electronics

Interstellar Relic

Interstellar Vestige

Irregular Component

Irreparable Armor

Jack's Flash Sock

Jeweled Cat's Eye

Kill Orders

"Kiss Me, I'm Irish" Fake Tattoo

Kryptonian Weapon Components

Kryptonian Weapon Parts

Leather Straps

Legendary Rat King

Lost Relic

Mechanized Meta Scanner

Mist-Contaminated Debris

Mystical Remnant

Obsidian Sliver

Odd Component

Ooze-Covered Barb

Parademon Armor Scrap

Phial of Tears

Pulsating Solar Amplifier

Recoverable Brainiac Data

Recovered Robot Parts

Resonant Solar Amplifier

Rolled Note

Rubber Chicken

Ruined Leather Boots

Salvaged Targeting Reticle

Scattered WayneTech Reports

Scrap of Magical Cloth

Scroll

Shattered Bone Fragments

Shattered Parademon Communicator

She-Cat's Damaged Cowl

Smashed Parademon Visor

Smashed Tactical Flashlight

Spare Parts

Speed Force Radiation

Supplemental Emotion Component

Thief's Toolkit

Tiny Fragmented Gear

Torn Clover

Undone Cummerbund

Unused Notebook

Unusual Circuitry

Unusual Particulates

Worn Hide Footwear

Worn Leather Footwear

Wrist Restraints

Zamaron Artifact
Failing to salvage anything useful from an item may result in these junk items that are worth a bit more.
Trivia
[
]
So far the selling prices of junk items have increased with every new content added to the game. Junk items from the latest episode can be sold for much more than junk items from the classic game.