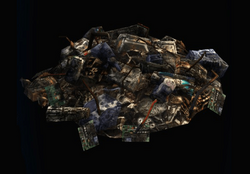 Junk Items are loot items that do not bring any benefit to the player and only serve as a way to earn cash by selling them to vendors.
List of Junk Items
Edit
Junk items are generally themed items relating to the location and drop source.
Failing to salvage anything useful from an item may result in these junk items that are worth a bit more.
So far the selling prices of junk items have increased with every new content added to the game. Junk items from the latest episode can be sold for much more than junk items from the classic game.