New Pokemon Games - The Loop
Play Sound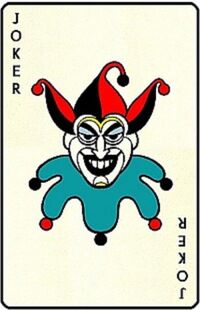 The Joker's Streetgang, sometimes known as the Jokerz, sometimes known as the Joy Boys, is a gang of criminal thugs working for the Joker in Gotham City.
In spite of his unstable manner, the Joker has always managed to find like-minded anarchists to enact his various schemes. Although not known for their intelligence, the Joker's streetgang thugs are known for their nihilistic outlook and borderline insanity, dressing up as clowns and circus people to associate themselves with their boss.
Involvement
[
]
Intent on inciting a city-wide gang war, the Joker sends various members of his streetgang to heckle both the members of the Gotham City Organized Crime Family and the Gotham City Police Department while also inciting their own chaos through the use of new robots created for him by T.O. Morrow.
Heroes
[
]
Villains
[
]
Members
[
]
Iconics/Bosses

Mobs




Vendors/Taskmasters

Sergeant Smiles

Poppa Smirk

Professor Daft
Equipment
[
]
Trivia
[
]
Harley Quinn first appeared in Batman: The Animated Series, in the episode "Joker"s Favor", as a lieutenant in the Joker's gang.
Joker henchman Lewis LeBeau made some big mistakes when he was young but still managed to "get a girl and have a baby". After joining the Joker's crew and sending what money he could to support his family, he began writing a journal about his time in the crew with the intention that the journal would be sent to his girl after his death, figuring that the "memoirs of one of Joker's henchmen" would make a great best-seller which would financially "set her up for life". While Lewis spent time working in both Joker's gang and Harley Quinn's "Quinntets" gang (where he was killed by Harley when he attempted to disrupt a romance Quinn was secretly trying to facilitate) it is unknown whether the journal was ever sent to his lover after his death.
Gallery
[
]
See Also
[
]