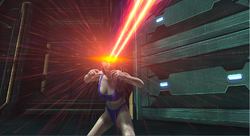 Heat Vision is an Iconic power that becomes available at Level 10. It is based on Superman.
Description
[
]
Blast your enemy with ocular heat beams, dealing damage over time.

Power Interactions : Burn enemies, making them vulnerable to burning effects.
Details
[
]
Vulnerable to Interrupt
Cooldown: 3s
Power Cost: 150 per second
Notes
[
]
The Empowered Channeling Hands Equipment Mod removes Vulnerability to Interrupt, prevents standard control effects and increases Defense and Toughness by 5% when using Heat Vision.
Deals 4 Ticks of damage during the animation as well as 12 Ticks of smaller damage.
Heat Vision can be empowered by the Solar Amplifier artifact, obtained by opening 5 Kryptonian Time Capsules. It also turns the beams blue.
Gallery
[
]
Trivia
[
]
Doomsday's Heat Vision in The Death of Superman is named Focused Blast in combat messages. Ultraman's Heat Vision in Earth 3 is named Ultra Vision when fought as a bounty in Earth 3 Gotham and Ultra Beam when fought in Earth 3 Panopticon.
Due to conventional razors and blades being unable to cut his hair, Superman uses his Heat Vision to shave by reflecting it off of a mirror onto his face.