Future Crusader is an Iconic Battle Suit style set for heroes and villains originally exclusively available from Time Capsules.
Consisting of eight pieces, the set is an advanced PvE (Player versus Environment) gear set inspired by the vestments of Future Batman.
This set is attuned gear with a maximum Item Level 10 to 292 and is obtained randomly from Time Capsules.
It is also directly purchasable with Quarks from Booster Gold in both the Watchtower and Hall of Doom. Its maximum item level has been gradually increased with updates and was originally at 147.
Sets
[
]
Pieces
[
]
Color-Schemes
[
]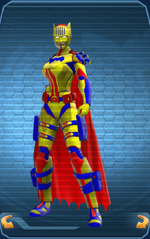 The Future Crusader's overall color-scheme consists of three colors that can be chosen by the Player in the Style Window. Specific sections of the style's pieces can also be allocated a more specific colour by the Player.
Emblems do not appear on this style.

Feats
[
]
I am the Night!: Collect all styles in the Future Crusader set (50 Points)
Eternal Knight!: Collect all styles in the Enhanced Future Crusader set (n/a Points), grants title: the Knight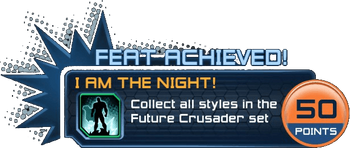 Trivia
[
]
Gallery
[
]
Video
[
]
See also
[
]