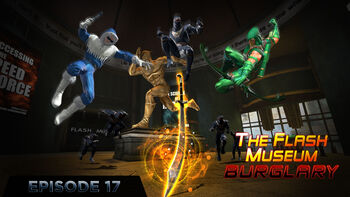 The Flash Museum Burglary is a Tier 7 Duo released in Episode 17 in October 2015.
Access to the Flash Museum Burglary Duo requires a Combat Rating of 113. The suggested Combat Rating is 132. The Duo rewards 2 Marks of Victory.

The Flash Museum Burglary is part of Episode 17 sold together with Unholy Matrimony. Access to the content is available to members with an active subscription. Non-members may purchase the Episode in the Marketplace for $4.
The Flash Museum Burglary Duo is a continuation of the ongoing League of Assassins storyline, which started in Episode 15's The Bombshells Paradox. Now, the League has broken into the Flash Museum in Central City, in what looks to be an attempt to steal an artifact from an alternate reality - Talia Al Ghul's scimitar! In this Duo, players must navigate through the museum to keep the artifact out of the League of Assassins' hands, and discover what they are plotting next.
The Flash Museum is an all-new environment steeped in Flash lore.
Walkthrough
Edit
Community content is available under
CC-BY-SA
unless otherwise noted.