The Expert Marksman is an Iconic Battle Suit Style set for any role.
Consisting of eight pieces, the set is themed after the villain Deadshot as a specialized Tier 5 PvP (Player versus Player) set available from the Requisitions-HA in the Hall of Heroes of the JLA Watchtower and from Requisitions-VA in the Power Core of the Hall of Doom. The set has PvP item level 101.
To obtain this set, players must be at Level 30 and have a PvP combat rating of 100 or above.
Sets
[
]
Expert Marksman

Pieces
Obtained from

Marksman's Helm

(head)

Marksman's Shoulderpads

(shoulders)

Marksman's Chestguard

(chest)

Marksman's Pants

(legs)

Marksman's Boots

(feet)

Marksman's Gloves

(hands)

Marksman's Belt

(waist)

Marksman's Slung Rifle

(back)
Pieces
[
]
Color-Schemes
[
]
The Expert Marksman's overall color-scheme consists of three colors that can be chosen by the Player in the Style Window. Specific sections of the style's pieces can also be allocated a more specific colour by the Player.
Emblems do not appear while wearing this style.

Feats
[
]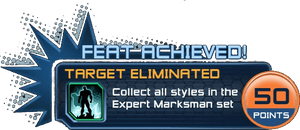 Trivia
[
]
Gallery
[
]