No Man's Sky Update - The Loop
Play Sound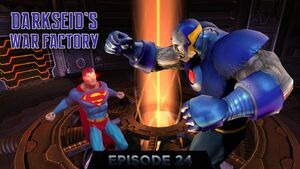 Darkseid's War Factory is a tier 4 8-player raid in Episode 24 released on May 19, 2016. It also features an elite version.
Darkseid has amassed enough Old World Artifacts to reshape them into a machine that would allow him to access The Source. It will be up to you to head to Apokolips and confront him and his vicious allies before he's able to unleash that divine power onto Earth! Do you think you can beat Darkseid?
Access to the Darkseid's War Factory raid requires a combat rating of 150.
Darkseid's War Factory is part of Episode 24 together with the Harley's Heist duo.

Story
[
]

"This hellscape is Apokolips, Darkseid's domain, with danger facing us around every corner. And none of that will prepare you for Darkseid himself. He is the single greatest threat to our world. We may be fools to be here, but we would be greater fools if we left Darkseid unchallenged." — Superman

Darkseid and his nefarious plans must be stopped once and for all. He has finally gathered enough Artifacts of the Old Gods to construct to reshape them into a machine that will allow him to access the all-powerful Source. With a direct line to the Source, Darkseid's will could never be stopped. You must get there before he can release that divine power into the universe.
Characters
[
]
Parademon Brute

Parademon Maniac

...

Demolition Drone

Restrictor Drone

Shield Drone
The enemy combat rating is 169.
Locations
[
]
Content
[
]
Equipment
[
]
Map
[
]
Walkthrough
[
]
Collectibles
[
]
Briefings and Investigations
[
]
Collections
[
]
Feats
[
]
Gallery
[
]