Roblox: DeepWoken - The Loop
Play Sound

Coast City is a coastal city located on the western coast of the United States of America. The city is popular for being the hometown of the Green Lantern (Hal Jordan) and over the years has become a big supporter of their green-light hero.

In-Game History
[
]
Coast City is located in California, USA. Known as the home city of Green Lantern (Hal Jordan), the city is also the location of Ferris Aircraft; a successful aerospace engineering corporation.
In the events following Superman's death at the hands of Doomsday, Coast City was destroyed by Mongul, who was doing the bidding of Hank Henshaw as part of a plot to turn Earth into the new Warworld. This plan was stopped by a ressurected Superman, Superboy, and Steel, with the help of Hal Jordan, who had just returned from space to find his home destroyed. A memorial to Coast City's victims was erected on where the city once stood.
Suffering an emotional breakdown from the ordeal, Hal Jordan was then possessed by Parallax and went on a rampage that resulted in the destruction of the Green Lantern Corps in an attempt to remake history.
When Hal Jordan, still Parallax, sacrificed himself to save the world, the Earth's heroes memorialized him as well. An eternal flame was constructed on the grounds of the city, and Swamp Thing utilized his powers to fill the surrounding area with greenery.
In the wake of Hal Jordan's return to the living, Coast City was rebuilt with all roads, street signs, and Jordan's apartment reappearing due to the battle of control between Jordan and Parallax over the Spectre's powers.
Repopulating the city became an initiative of the President of the United States. Charities and industries around the world, including Wayne Enterprises, made contributions to the goal of rebuilding the city.
The U.S. Navy also established a presence in the region in the wake of its reconstruction, as both a domestic security and economic stimulus measure.
Map
[
]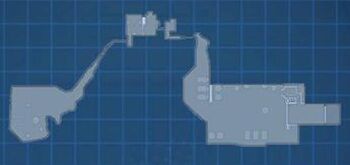 Combatants
[
]
Briefs and Investigations
[
]
Gallery
[
]
Trivia
[
]
Cyborg Superman chose to destroy Coast City as part of an effort to erase his former life. He and his wife Terri Henshaw were former residents.
For some time, an alien city named Haven resided on top of the ruins of Coast City. The alien city inexplicably disappeared during the city's resurrection.
See Also
[
]
External links
[
]