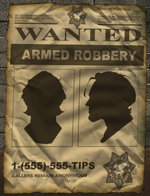 Bounties are missions found in various safe houses or in Central City from wanted posters and task players with defeating powerful heroes and villains, most of which are also instance bosses.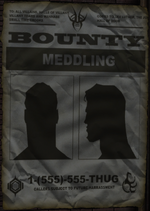 After the bounty is completed once, it becomes available as a repeatable daily quest, offering small amounts of cash and experience, as well as 40 renown with one of the Factions and some give marks or other rewards. It is recommended to find a full group for each one as these fights are as tough as alert bosses. It is possible to swarm the targets with any number of players and they will all gain credit towards their bounty as long as they have participated for most of the fight.
Bounty List
Edit
Bounties for Heroes
Edit
Bounties for Villains
Edit
All bounty missions in the classic game will reward the player with experience, some cash, Mark of Victory, and one piece of unique equipment. Note that the equipment is only rewarded for the first completion. Afterwards, only cash and experience would be given. It appears there is also a combat rating threshold that causes players with high CR to not receive marks, but unlike alerts and raids it is not stated in-game.
All classic bounties and the ones from Lightning Strikes episode will also reward the player with renown from the according factions.
With game update 31 all bounties in the classic game, which had ranged from level 12 to level 29, have been updated to level 30.
Community content is available under
CC-BY-SA
unless otherwise noted.