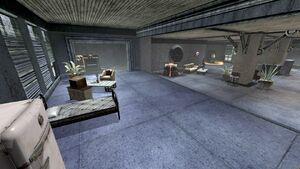 Base Theme: Dive is a visual theme that can be applied to a player's Lair or Hideout.  The Dive theme is available to all players.
The theme dictates the appearance of the base's Mainframe and Generator.
After obtaining a theme, the Player must obtain a Deed which dictates the location of the Lair or Hideout in Gotham City or Metropolis.

Locations
Edit
101 Teamwork Ln
1237 Texas Ave
1288 Babbage Blvd
4896 Houston St
4331 Unreal St
5575 Medium Ln
3398 Portside Ln
4170 Machine St
2800 Einstein Ave
9972 Oppenheimer Blvd
4004 Gabriele Ln
1301 Park St
4199 State St
1279 South St
2992 Adams Blvd
7424 Burr St
612 Water's Cove

1222 Stock Ln
8004 Writ St
7756 Silver St
2234 Elizabeth St
2555 Overflow Ave
3172 Laughter Ln
4611 Port Place
1217 Ore Place
4600 Utopia Ln
9577 Relic Rd
3871 Commerce St
3381 Writ St
Community content is available under
CC-BY-SA
unless otherwise noted.