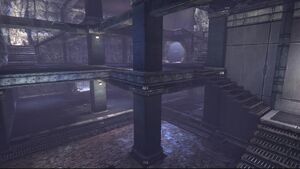 Base Theme: Cave is a visual theme that can be applied to a player's Lair as part of the Lair System.
The theme dictates the appearance of the base's Mainframe and Generator and other amenities as well as the appearance of the player's Henchmen.
After obtaining a theme, the Player must obtain a Deed which dictates the location of the Lair or Hideout in Gotham City or Metropolis.

Maps
[
]
Locations
[
]
Holiday Beach Cave
Eastshore Cave
Northbridge Cave
Surfer's Cave
Bohemian Cave
Cryptic Cove
Shrouded Cavern
Archaic Cave
Creaky Cavern
Primal Cave
Maniacal Cavern
Bone's Cavern
Crystal Cave
Tidal Cavern
Howling Stone Cavern
Clandestine Cave
Agent's Cavern
Occult Cavern
Disguised Cavern
Camouflaged Cave
Rockbound Cave
Windswept Cavern
Timelost Cave
Deep Cave
Veiled Cave
Riftwalker's Cave
Ethereal Cave
Whispering Cave
Runic Cave
Sorcerer's Cave
Shady Cavern
Course Cave
Wicked Cave
Petrified Cave
Glowing Cavern
Glyphed Cavern
Veiled Cave
Shrouded Cavern

Mystical Cave
Railway Cave
Cracked Cave
Sharp Rock Cave
Lookout Cave
Assassin's Cave
Warm Cave
Shallow Cave
Curerent Cave
Sandy Cave
Silvered Cave
Crystal Cave
Brigand's Cave
Hidden Cave
Recondite Cave
Tide-worn Cave
Floatsam Cave
Dripping Cave
Shoreside Cave
Driftwood Cave
Shipwreck Cave
Bone's Cave
Windy Cave
Washed-out Cave
Shallow Cave
Tinkerer's Cave
Dilapidated Cave
Secluded Cave
Shadowed Cave
Mossy Cave
Gallery
[
]
Trivia
[
]
Following his disastrous first encounter with Bane, Bruce Wayne created numerous "satellite caves"; a network of bolt-holes and command posts, throughout Gotham where he could go to at a moment's notice to rest and restock. These caves came in handy during Gotham's No Man's Land when the primary cave under Wayne Manor had been decimated by the Cataclysm earthquake. The entrances to this safehouses are usually marked by a bat symbol that can only be seen in infrared.
See Also
[
]