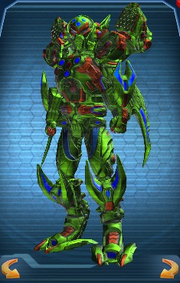 The Avatar Bombardier is an Iconic Battle Suit Style set for Heroes and Villains.
Consisting of eight pieces, the set is themed after Brainiac and until game update 41 was specialized Tier 1 PvP (Player versus Player) set.
The armor set has been phased out, but not put onto the PvP style vendor. It does drop from Promethium Lockboxes, so it is available, but hard to collect.
Since October 2017 the set is available as attuned gear from the Rewards from Time and Space vendor kiosk. Avatar Bombardier Gear Boxes cost 120 Quarks and would allow you to choose a piece for any slot and role.
Zero Sets

[

]
Furious Avatar Bombardier (Damage)
Pieces
Stats
Sockets



Fortified Avatar Bombardier (Tank)
Pieces
Stats
Sockets



Rejuvenating Avatar Bombardier (Healer)
Pieces
Stats
Sockets



Imperious Avatar Bombardier (Controller)
Pieces
Stats
Sockets



Pieces
[
]
Color-Schemes
[
]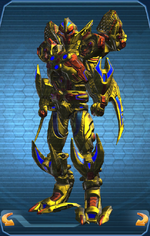 The Avatar Bombardier's overall color-scheme consists of three colors that can be chosen by the Player in the Style Window. Specific sections of the style's pieces can also be allocated a more specific colour by the Player.
Emblems do not appear while wearing this style.

Feats
[
]
Collecting the the variant Head style unlocks the feat Heads, You Win (10 points).
Trivia
[
]
Gallery
[
]