Roblox: DeepWoken - The Loop
Play Sound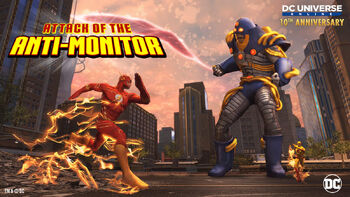 Attack of the Anti-Monitor is an in-game event first introduced on occasion of the game's sixth anniversary in January 2017. It features all-new content including open-world missions in the Metropolis Anti-Matter Invasion Zone and a raid.
The event also features new gear, collections, feats and more.
In 2021 the event was updated with new open world missions and a new raid for the game's 10th anniversary.
Story
[
]
"So, I still haven't figured out a permanent solution to the time-trapped Anti-Monitor, but at least the problem hasn't gotten any worse, right? Just check in at my terminal, we'll have this solved in no time." — Oracle
"Hey, think that time-trapped Anti-Monitor has learned his lesson yet? Just... set up my terminal's connection, and well use my genius solution again." — Calculator

Face the Anti-Monitor and find a way to save the world.
Metropolis Anti-Matter Invasion Zone
[
]
Travel forward in time to an unimaginable future – our future – and to a new version of Metropolis where a Qwardian invasion from the antimatter universe is weakening the last of Earth's defenses.
Speed Force Flux
[
]
Help the Flash stabilize a Flux in the Speed Force!
Centennial Collapse
[
]
With our Earth on the brink of destruction, it will be up to you to face the Anti-Monitor in this dark, possible future, and to do whatever is necessary before we and it are destroyed.
Characters
[
]
Locations
[
]
Content
[
]
Equipment
[
]
Missions
[
]
Collectibles
[
]
Briefings and Investigations
[
]
Collections
[
]
Feats
[
]
Main article: Anti-Monitor Anniversary Event Feats
Base Items
[
]
2017
2018
* Brainiac Neural Network
2019
2020
2021
* Trophy
2022
House of Legends Poster

House of Legends Poster (Large)

Legion of Doom Poster

Legion of Doom Poster (Large)

Loading Screen Poster - Fragment of Krypton

Loading Screen Poster - Fragment of Krypton (Large)

Loading Screen Poster - Gotham Sewers

Loading Screen Poster - Gotham Sewers (Large)

Loading Screen Poster - Monitor Duty

Loading Screen Poster - Monitor Duty (Large)

Loading Screen Poster - Protecting Civilians

Loading Screen Poster - Protecting Civilians (Large)

Loading Screen Poster - Steel Mill

Loading Screen Poster - Steel Mill (Large)

Loading Screen Poster - The Heart of Gotham

Loading Screen Poster - The Heart of Gotham (Large)

Statue of Triumph: Final Form Brainiac

Statue of Triumph: Mxyzptlk
News
[
]
Gallery
[
]
2019
[
]
2020
[
]
2021
[
]
2022
[
]
Video
[
]
See also
[
]