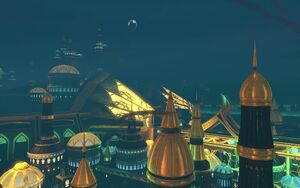 Atlantis is an open world zone for the episode Atlantis.
Access to it can be unlocked by completing the Atlantis: Royal Palace challenge.
In Atlantis: Royal Palace, Corum Rath captured Aquaman and seized the throne, forcing loyalists to the Royal Hideout in the deepest part of the trench in Atlantis.
Corum Rath's rule with an iron fist is apparent throughout Atlantis, with his Drift soldiers harassing or imprisoning Atlanteans not loyal to him, displays showing propaganda, and his experiments with dark magic provoked creatures of the deep and even domestic animals are spooked or mutated, causing chaos throughout the underwater city.
Involvement
Edit
Atlantis is the open world zone in the Atlantis episode and event.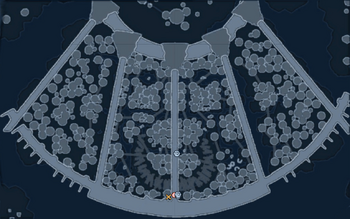 Locations
Edit
Inhabitants
Edit
Collectibles
Edit
Briefings and Investigations
Edit
Collections
Edit
Shoals of fish can be spotted swimming through Atlantis, although at closer inspection, it can be seen that each shoal is a single 2D ribbon.
Portals to and out of Atlantis have a unique visual effect of a whirlpool on the ground.
Community content is available under
CC-BY-SA
unless otherwise noted.