Arcane: League of Legends - The Loop
Play Sound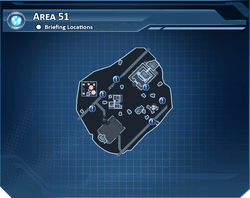 Briefing: Area 51 is a collection of Briefings that can be found scattered across the Area 51 Alert Zone, accessible from a player's On Duty Menu upon achieving level 9.
Synopsis
[
]
"Brainiac has invaded Cadmus's base at Area 51!"
A Cadmus-run military base at Area 51, in the Nevada desert, has come under attack by Brainiac's forces. Contracted under both the U.S. government and Lexcorp to conduct kryptonite-based research at this location, Cadmus is exploring the mineral's effects on native earth life, as well as developing a process of producing it artificially. Cadmus' stockpile of the rare mineral would represent a significant threat if it were to fall into Brainiac's hands.
Briefings
[
]
Part 1: Lois Lane
[
]
Part 2: Amanda Waller
[
]
Part 3: Amanda Waller
[
]
Part 4: Jack Ryder
[
]
Part 5: Lex Luthor
[
]
Part 6: Superman
[
]
Superman: "Ms Lane, I'm not sure where you get your information. Surely the U.S. government ensures that any Cadmus base is working within legal limits. As for the kryptonite threat, it seems that our new generation of heroes has inherited our strengths, but not our weaknesses. The JLA and I will be working closely with them to contain any threat from Brainiac, or anyone else."
Reward
[
]
Mail Messages
[
]
Upon completion of this collection players receive a message from Amanda Waller, accessible from any Mail Terminal.
From: Amanda Waller
Subject: Briefing: Area 51
"Coded Transmission Follows: This is Amanda Waller with Checkmate. Your work in the field is to be commended. I don't care what kind of ethos you follow, I need assets like you out there making sure things get done. Watch your back. Waller out."
Attachment: Boss of the Plains
Item
[
]
This collection rewards the player with the Boss of the Plains style item (style: Cowboy).

Gallery
[
]
Videos
[
]
Trivia
[
]
External Links
[
]