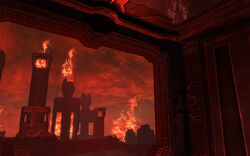 Apokolips is a realm of darkness, chaos and death, a demonic wasteland of a planet with its entire surface covered by a manufacturing complex devoted to the training and creation of war machines. Dotted with roaring fire pits that constantly erupt molten fire from the planet's core, the planet is populated by the malevolent New Gods Parademons and is ruled by Darkseid.
The planet's general population is comprised of a broken, submissive people known as Lowlies, or Hunger Dogs. Many of these people were captured from conquered or destroyed planets and had their wills broken into serving Darkseid's will by operating the planet's vast landscape of machines and war factories until death.
The primary fighting force and enforcers of Apokolips are the Parademons, whose legions are equipped with armor and weapons forged in the pits of Apokolips. These Parademons, as well as Apokolips' other armies, are led by the Female Furies; the elite personal guard of Darkseid and the most feared fighting force amongst the New Gods.
Background
[
]
Following the end of the Third World that saw the destruction of the planet Urgund and the Old Gods, the rubble of Urgund eventually formed into two planets. One was full of life and would be called New Genesis, while the other was a desolate wasteland and would be called Apokolips. As time passed, new life formed on both planets and they soon learned to access the same cosmic energies that their predecessors had. Soon after, they dubbed themselves "New Gods" in memory of the predecessors.
Moralistically divided, the people of New Genesis were led by Izaya the Inheriter while the New Gods of Apokolips were led by Yuga Khan, a position that was later taken by Darkseid. While not as militant as the Old Gods, the two sides fought from time to time due to the forces of Apokolips' wish to conquer and destroy all of creation.
Izaya and his wife, Avia, were one day ambushed by forces of Apokolips led by Steppenwolf and Uxas, and Avia was slain. In vengeance, Izaya led an attack on Apokolips and slew Steppenwolf. Revenge, however, brought no solace to Izaya, and he went on a sojourn into the wilderness of New Genesis, seeking enlightenment. It was at this time that Izaya first encountered the Source, and, taking the name Highfather, he returned to the gods of Supertown to bring them the Source's wisdom.
After years of war, the two worlds struck a peace accord, with Highfather engineering a pact with Darkseid, who had succeed the throne of Apokolips following Yuga Khan's imprisonment, by which Izaya's child was sent to the orphanages of Granny Goodness on Apokolips and Darkseid's son was sent to live on New Genesis as Highfather's adopted son.
Eventually, Highfather's son, Scott Free, escaped Apokolips with the Apokoliptian warrior, Big Barda, to Earth while Orion became a loyal follower and step-son to Highfather, with both sons battling Darkseid and his agents for years to come. Scott's escape, however, caused the pact to be broken and conflict between the two planets returned, with Darkseid eventually using the Micro-Mark (a weapon of minuscule size that is capable of destroying planets) to destroy New Genesis. However, the New Genesian New Gods survived by having Supertown relocate to another planet as New Genesis was rebuilt.
Involvement
[
]
Heroes
[
]
Villains
[
]
Members
[
]
Iconics/Bosses
Mobs

Affiliated Groups
Equipment
[
]
Trivia
[
]
Gallery
[
]
See Also
[
]
External Links
[
]