No Man's Sky Update - The Loop
Play Sound
The Aegis of Eternity is a costume style set set for heroes. The suit is granted upon those who have been deemed worthy to wield the power of S.H.A.Z.A.M. alongside Earth's Mightiest Mortal, Shazam.
The set as PvP gear is now phased-out, and it is only available as style items.
Consisting of eight pieces, the set is themed after Shazam and is available as style pieces from Aquaman in the Magic Wing, Hawkgirl in the Meta Wing or Robin in the Tech Wing of the JLA Watchtower for 800 Marks of Valor and $250 per piece.
The set is also available from the PvP style vendor Requisitions-H-STYL in the Hall of Heroes in the JLA Watchtower.
Sets
[
]
Aegis of Eternity (Styles)

Pieces
Obtainment

Helmet of Eternity

(head)

Shoulderplates of Eternity

(shoulders)

Shirt of Eternity

(chest)

Pants of Eternity

(legs)

Boots of Eternity

(feet)

Belt of Eternity

(waist)

Gloves of Eternity

(hands)

Cape of Eternity

(back)
Pieces
[
]
Color-Schemes
[
]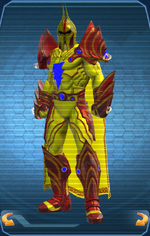 The Aegis of Eternity's overall color-scheme consists of three colors that can be chosen by the Player in the Style Window. Specific sections of the style's pieces can also be allocated a more specific colour by the Player.
Emblems do not appear while wearing this style.

Feats
[
]
Trivia
[
]
The hand and shoulder pieces feature cosmetic lights that leave magic effects in the air as the player moves.
Gallery
[
]
See also
[
]